Meet Dru
Drucilla has stated that before ETKIE she had nothing.  After a severe accident in 2008, Dru lost everything. Now she claims she has "a ride" and stable housing options. She has raised two children as a single mother. She learned beading from her grandmother whom she lived with for many years on the Navajo Reservation. Some of her fondest memories are making fry bread on an open fire at sunset. Drucilla divides her time between Albuquerque and a home on the reservation. She often takes care of elder members needing transportation to the doctor. As our first artist, she is the face and hands of many of the ETKIE patterns designed with our founder, Sydney.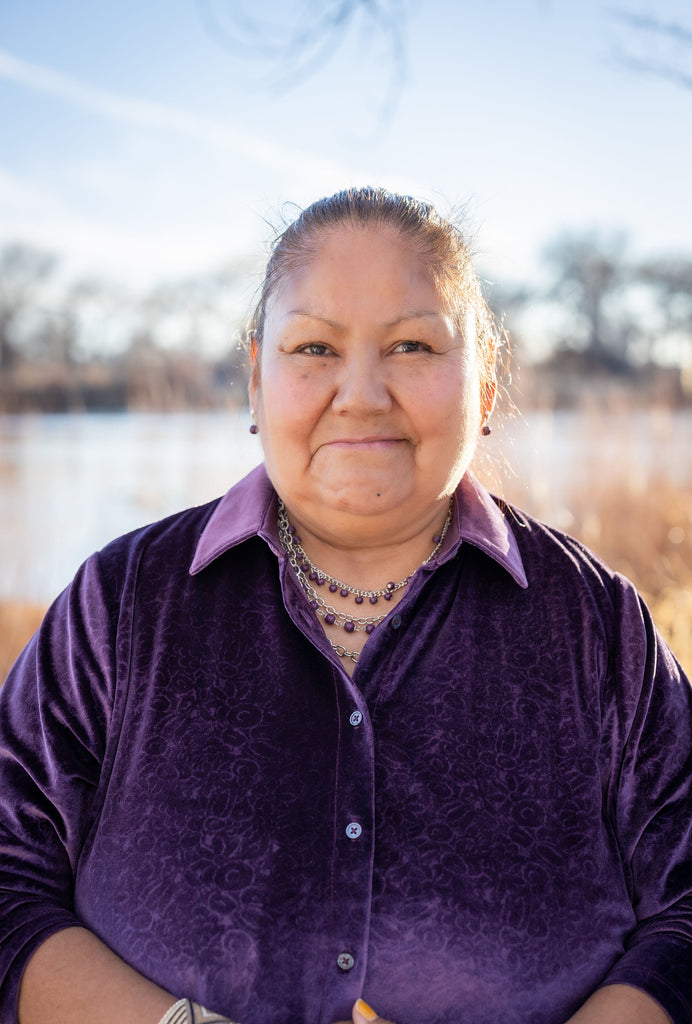 Our Lead Artist Priscilla
Priscilla is one the strongest and hardest working humans we know! She has been a collaborating artisan since 2014 and continues to demonstrate her dedication to her artistry and Dine traditions.  Priscilla raised three children as a single mother and still managed to mentor and share the art of loom beading with her children. She may appear quiet and reserved, but her humor will surprise you when you least expect it! She is an avid Bronco fan and loves to travel to Denver for home games with her family.   
Meet Valeen
Valeen is the mom to two young boys who keep her busy and happy! She enjoys working in collaboration with Etkie because it gives her the flexibility to put family first. She learned how to bead from her mother and grandmother, who live five-minutes away from her. If you couldn't tell from her outfit, she has a flair for style and loves all things pink and sequins. She is a strong role model for her family, community and her beading team at Etkie.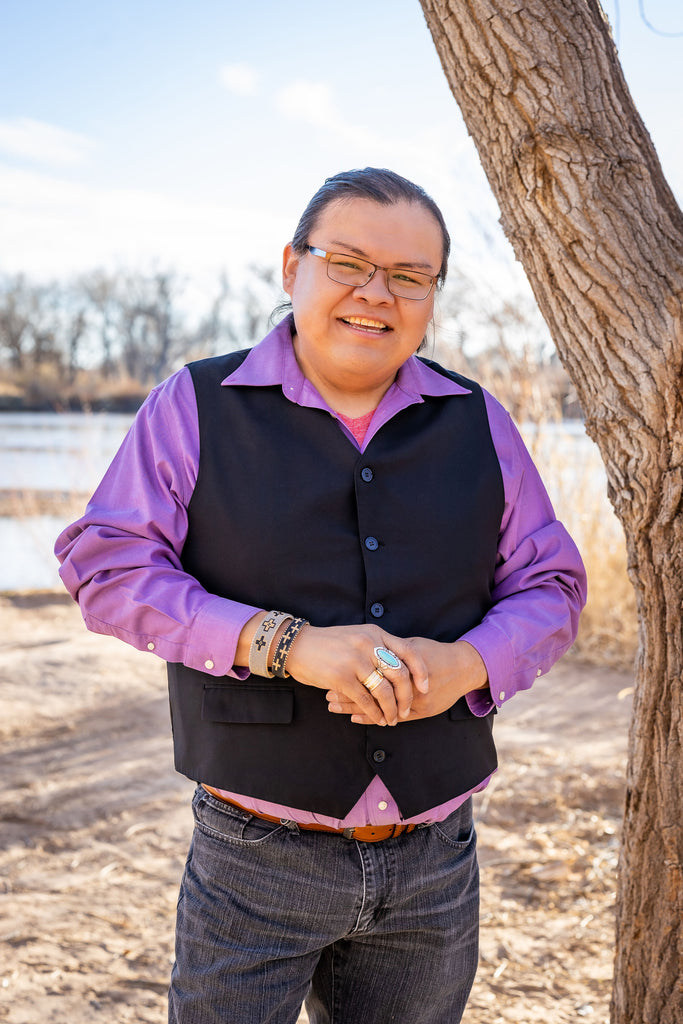 A Warm Welcome From Cal
Calvert is a talented beading artist who also learned from his mother and grandmother. He has experienced many paths in life and is one gentle human being with an acquired sense of humor he got from his mother (Priscilla!). Coming home to the Navajo reservation near Albuquerque and contracting with ETKIE allows Cal to create a schedule on his own terms and not have to face long drives to the city to earn a living. Calvert is always ready for a new learning experience. He is an excellent spokesperson and leader for the artisan team. He loves good road trips and bad movies!
Hello from Dorothy
Dorothy has the most amazing ability to turn beads into magic. Her work is beautiful. Soft spoken and independent she lives on the Navajo Reservation far down the road with a rather harrowing dirt road leading up to her house. She is so petite we are lucky to see her head above the steering wheel in her 4 wheel drive vehicle. She has grown children and grandchildren and endless patience for life's adversities. Just this year she finally got plumbing in the house that was passed down to her over thirty years ago.  She enjoys her time alone to work or to visit with her Navajo sisters and family. She is the first to agree to a social gathering and lunch on a patio.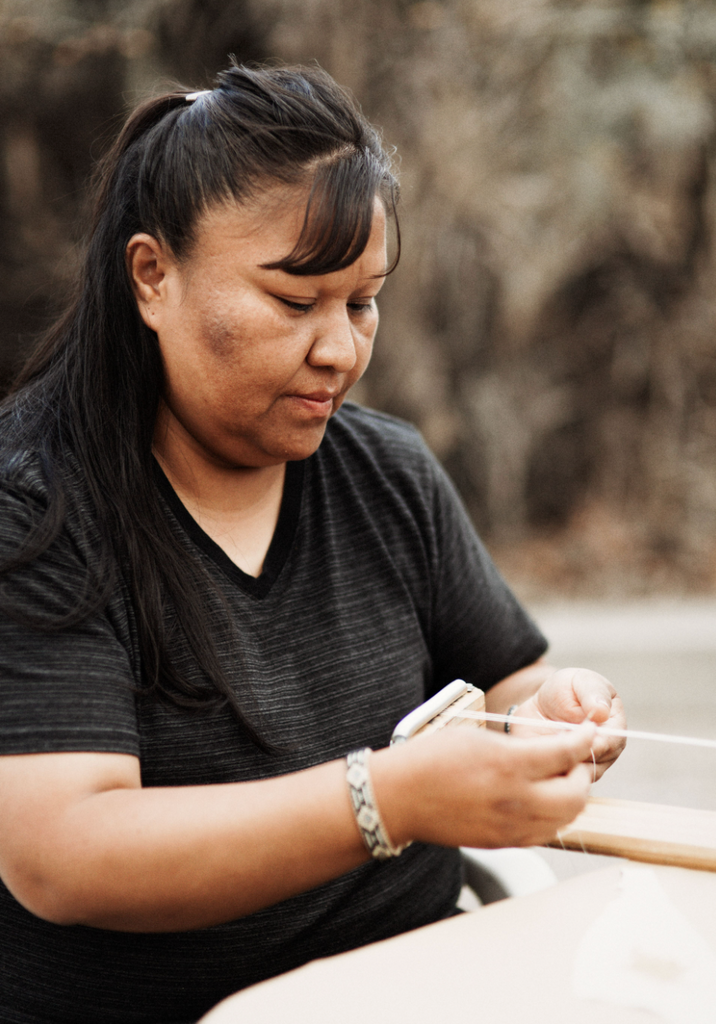 Meet Tanya
Tanya has a full time job caring and loving her family and community. She is an experienced Dine loom beading artist having learned from her mother and grandmother.  The alliance with ETKIE allows her to work from home and maintain her autonomy while prioritizing the needs of her family and traditional values. She and her husband are the first to load up the family car to attend school activities and sporting events for their children and extended family members. She is an avid supporter of education for Native American youth. Tanya has a particular knack for experimenting with colors and patterns and is always willing to share her creative side with the ETKIE team.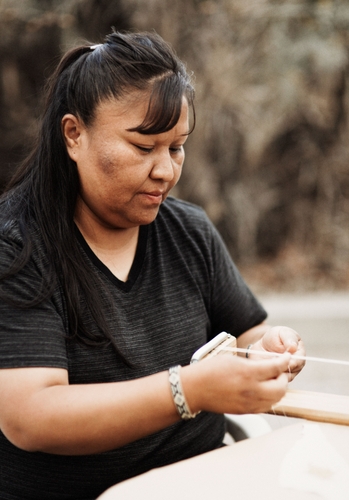 THE STRUCTURE OF
THE TEAM
Sydney Alfonso | CEO
sydney@etkie.com
Kerry | Head of Operations
kerry@etkie.com
Wanda | Senior Administrative Support Manager
wanda@etkie.com
Izabella | Administrative Assistant
izabella@etkie.com
Customer Service Requests
hello@etkie.com | kerry@etkie.com